The nearby area
Lerici and Portovenere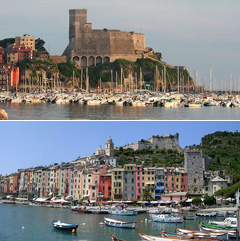 Lerici stands on the eastern arm of the Gulf of poets, an imposing castle with the Geo-paleontological Museum rises on its headland. The tourist can have a walk along the sea front or spent a day on a sandy beach. The mediaeval village and its castle are ideal for a cultural journey too.
Portovenere
Portovenere is an old sea-village, almost unchanged during 9 centuries, with an unparalleled seascape. This village shows still its medieval structure with characteristic coloured buildings along the "calata" and the narrow "carugi". The three little islands in front of the village, Palmaria, Tino and Tinetto, emerge from the blue expance of the sea.
Restaurants and coffee bars, beaches (on Palmaria island too) make your holiday unique.
The track (from Porto Venere to 5 Terre and Levanto) along the rocky spurs over the sea of Muzzerone and Castellana offers breathtaking views.
Cinque Terre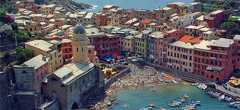 The sea-villages of Cinque Terre, perched on rocky spurs, are the jewel of the Ligurian coast.
The characteristic coloured houses along the "carugi", the crystalline sea and the typical cultivated terraces make the landscape unique.
Among the cliffs there are little bays and peaceful beaches with a wonderful sea.
For trekking lovers a lot of paths connect villages and sanctuaries.
MORE INFO
Versilia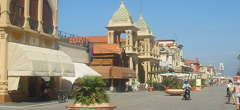 The Versilia coastline stretches across kilometres of sandy beaches.
It's a pleasant place by day and a lively place by night. Nightclubs, pub and discos, overlooking the sea, welcome the tourist. Mild climate (Versilia is between the sea and the Apuan Alps) is ideal for long walks along the beach and for amusing evenings with friends.
Carrara and Marble quarries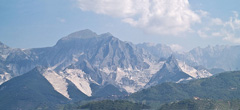 Don't miss a visit to the city and above all a tour to the marble quarries.
The marble of Colonnata, Fantiscritti and Ravaccione (the most important marble fields) was used from the 2nd century b.C. to build monuments and villas. Michelangelo chose here the best marble to realise his unequalled sculptures.