The Resort
Monteverdi resort
is in la spezia (liguria-italy), in 35 via Migliari, five minutes walk from the railway station (to Cinque Terre 8 minutes by train) and 10 minutes walk from the marine station to Lerici, Portovenere, Palmaria island, Cinque Terre and Portofino.
Our guesthouse, completely new, is placed in the inside of a valuable building.
Our style, comfort and services can meet the most demanding clients.
The rooms
There are five double rooms, two of these with a third bed.
All rooms, with sober and elegant forniture, are provided with a little refrigerator, digital and satellite tv, free wi.fi internet connection, air-conditioning with indipendent chronothermostat.
All rooms come with private bathrooms, shower box with crystal and hair-dryer.
Daily clean of the rooms and new towels.
Change linen every three days and every new guest's arrival.
Upon request, you can have your breakfast (with sweet and salty foods) by a coffee bar just a few steps.
In our guesthouse there is a common area, where you can stay and have a coffee or a drink and plan your trips with the suggestion of our staff.
Parking on demand just in front the guesthouse's entrance.
Our services
Wireless
TV in room
Air Conditioning
Credit Card/Cash Machine
Minibar
Garage on payment
Hairdryer
Sky TV/Satellite TV
Museums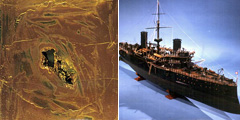 MONTEVERDI RESORT is in the nearby of the main cultural resources of La Spezia, such as:
The
Lia Museum
, where paintings by Tiziano, Tintoretto, Veronese, Pontormo,Canaletto and 14th century miniatures can be found;
The Seals Museum, CAMeC
the Centre for Modern and Contemporary Art;
The Ethnographic Museum, The Naval Technical Museum
(with hundreds of ship models of all ages); The Diocesan Museum abd The Ubaldo Formentini Museum, by S.Giorgio Castle, with its prehistoric and roman artefacts
MORE INFO
SURROUNDINGS
Thanks to the nearby with railway station and highway, it is easy to reach Pisa, Genoa, Florence and its airports, Riviera Ligure and Tuscany.
We'll be happy to suggest you all the tourist and cultural opportunities of 5 Terre, Riviera Ligure and Tuscany.
MORE INFO